Huub NIESSEN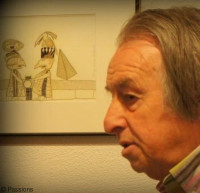 "I am not educated as an artist, I am self-taught. I have been a journalist for about twenty five years, but, unfortunately, when I was about 45 years old I suffered from deep depressions, that took about ten years of my life.
In my drawings I try to explain what is/was deep inside me, a way of communication, which in the drawings is said that, which is not possible in my daily life.
"After this dark period I started studying Arabic, and began to draw more intensely than before.
By the end of the sixties I had exhibitions in well-known galleries in Amsterdam and elsewhere. And now I am 75 years old (born in Holland, 4 Feb. 1943)."
Huub's dark, haunting and intense outsider art can currently be found in a number of museum collections, these currently include The Guislain Museum, Ghent, Belgium, & The Musee de la Creation Franche, Begles and Sammlung Demirel, Wuppertal, Germany.
He has also had one-man exhibitions in Amsterdam, Einhoven, Beda & Den Bosch, Lyon (France) Galerie Detting Mayer, et now Galerie Hamer Amsterdam.
A number of cities have his drawings in their permanent public collections. In 2010 his work was shown at the INSITA.